December
December 6-7 - CEE held its annual meeting activities. The meeting kicked-off with a lecture by Dr. Jonathan Stern (Oxford Institute for Energy Studies) on the "Views on European Gas Markets, Implications for the Atlantic Basin" held on Thursday, December 6. Activities continued the next day with CEE presentations of the past year's activities and projects, introduction of new project areas for discussion, and invited guest comments by Shirley Neff (AOPL) and Fisoye Delano (NPDC). On the photo: Dr. Stern presenting at the CEE annual meeting

December 4 - Dr. Mariano Gurfinkel spoke at the monthly luncheon of the Society of Petroleum Evaluation Engineers, Houston Chapter. He discussed scenarios and future prospects of Venezuela and the exploitation of 1.3 trillion barrel Faja del Orinoco.
December 4 - CEE hosted Tomoko Murakami (Leader of the Nuclear Energy Group) and Ayako Sugino (Researcher in the International Strategy Analysis Group) from Japan's Institute of Energy Economics and discussed prospects for nuclear energy and the growing importance of natural gas in power generation among other topics.
December 3-7 - CEE held the Executive Program: Commercial best Practices for Oil & Gas Value Chains. Program candidates represented Argentina, Hong Kong, Madagascar, Nigeria, the UK and the US. The program included lectures on energy value chains, commercial frameworks, project finance, and international petroleum agreements given by CEE senior staff and guest speakers. On the photo: program participants and CEE instructors.

November
November 29-30 - CEE's Michelle Foss, Mariano Gurfinkel and Gurcan Gulen taught a couse on "Economics & Technology of the Crude Oil, Natural Gas and LNG Value Chains" as part of the Energy Finance Certificate program offered by the McCombs School of Business.
November 16 - The Energy Forum at Baker Institute for Public Policy (BIPP) and Center for Energy Economics (CEE), BEG/JSG/UT co-hosted a conference on Natural Gas in North America: Markets and Security. The conference was occasion to profile research and activities at BIPP and CEE related to US, North American and global natural gas. Dr. Michot Foss organized and chaired Session II, North American Demand and Competition of Fuels in Gas-Consuming Industries. Also participating were Glenn Sweetman, Director, International, Economic and Greenhouse Gases Division, US Energy Information Administration; Brad Williams, President, Spitfire Advisors & Investments and Principal, Floridian Gas Storage Co., LLC; and Dr. David Burns, Director, Refinery Services, Praxair, Inc. Dr. Michot Foss presented 10 key observations from work completed and underway at CEE on national and international natural gas markets (see slides) stemming from research published by CEE and Oxford University (Oxford Institute for Energy Studies) and CEE's LNG research and public education consortium. Dr. Michot Foss also announced the upcoming release of publications from CEE's year-long study of economic and community benefits and LNG facility siting. Mr. Sweatman commented on demand for natural gas from EIA's annual modeling and recent scenarios related to potential climate change mitigation (read EIA outlook). Dr. Burns provided an overview of key strategies available to industrial natural gas customers for heat applications (for example, see this article regarding efficiency gains associated with Praxair's oxy-fuel glass furnaces). Mr. Williams provided a lively case study on energy demand in Florida and consequences for energy planning associated with needed natural gas supply and storage infrastructure (link). A consistent theme for the panel were potential gains to be made from demand-side improvements in major customer segments (power generation and industrial use) within the context of growing demand for natural gas to meet climate and economic development targets.
November 12 - CEE hosted a delegation from Brazil's National Petroleum, Natural Gas and Biofuels Agency. The group was visiting the United States as part of the Natural Gas and Biofuels Regulatory Policies Orientation visit organized by the U.S. Trade & Development. Dr. Gulen discussed LNG and biofuels trends in the US.
November 2 - CEE hosted a Strategy and Regulatory Policy Roundtable for the American Gas Association (AGA) member companies.
October
October 29 - Mariano Gurfinkel gave a summary presentation on the recently completed National Petroleum Council study, "Facing the Hard Truths About Energy" to the UT Department of Petroleum and Geosystems Engineering as part of its Graduate Seminars. The study was performed in response to a request from the Secretary of Energy captured in a letter dated October 5, 2005. The National Petroleum Council conducted a comprehensive study considering the future of oil and natural gas to 2030 in the context of the global energy system. The complexity of today's integrated energy markets and the urgency surrounding today's energy issues demanded a study that included: an integrated view of supply, demand, infrastructure, technology, and geopolitics; a comprehensive review of public and aggregated proprietary energy outlooks; in-depth analysis of technology trends and opportunities; policy options viewed through economic, security, and environmental lenses; more than 350 participants from diverse backgrounds and organizations; dialogue with more than 1,000 persons and groups actively involved in energy. The Council found that total global demand for energy is projected to grow by 50-60 percent by 2030, driven by increasing population and the pursuit of improving living standards. At the same time, there are accumulating risks to the supply of reliable, affordable energy to meet this growth, including political hurdles, infrastructure requirements, and availability of a trained work force. We will need all economic, environmentally responsible energy sources to assure adequate, reliable supply.
October 26 - A guest comment by Mariano Gurfinkel appeared in the October 22-26, 2007 volume of the Inter-American Dialogue's Latin American Advisor on Energy. The topic was the recently completed natural gas pipeline from Colombia to its eastern neighbor. [more]
October 18 - Mariano Gurfinkel participated in a panel discussion on the topic of Peak Oil during the recent 2007 Houston World Oil Conference hosted by ASPO. The panel discussion centered on concerns about Peak Oil, its time frame and possible policy actions. Dr. Gurfinkel shared with the conference participants his view that resource constraints in general or resulting production limitations of "cheap" crude are not the problem.
"Increasing demand and lagging investment in supply and the resulting continued market tightness should be the focus, especially with trends towards non-market based agreements among key suppliers and large consumers. If market mechanisms are allowed to function, waste will be reduced and investment in other resources and alternatives will be made as needed. Surely there will be commercial winners and losers but governments should avoid the temptation to pick technology, even when energy security is an important factor. Rather policies should create mechanisms that capture the identified externalities and let humans do what they do best, innovate!"
Finally, Dr. Gurfinkel shared with the audience an excerpt of ongoing research at the Center which studies the evolution of energy use to fuels with ever higher energy availability even though in recent times they are trending to have their origin in resources with lower energy availability.
October 17 - CEE was named a Finalist for the prestigious World Oil Awards in the Best Outreach Program category. CEE's nomination featured its "Africa Partnerships," which are focused on helping to prepare younger generations of the energy industry professionals and developing understanding of the energy industry among the general public in Africa as well as educating the Houston community about Africa energy sector issues. As recognized by the World Oil Advisory Board and the Next Generation Committee, the awards are designed to "applaud and showcase innovative thinking and next-generation leadership."

October 9 - Dr. Mariano Gurfinkel was interviewed for and quoted in an article "Technology Left in Venezuela by Exxon, Conoco May Aid Rivals," by Isabel Ordonez of Dow Jones Newswires. [read]
October 8 - Dr. Foss was a speaker at the Fourth Annual Meeting of the Science and Technology in Society forum (STS Forum), held from October 7 to October 9 in Kyoto, Japan. [more]
October 1 - Dr. Foss was a panelist on "What are the Trade-Offs/Consequences/Options?" panel at the Latin American Forum III, held on September 30-October 2 in Huatulco, Oaxaca, Mexico. The panel was part of the session named "Energy Matrix for Latin America." The event was the next in the series of activities of the JSG's Latin American Forum on Energy and the Environment.
September
September 27 - Dr. Michelle Foss presented "Electricity Sector Restructuring" and "Global LNG Developments" at the international Energy in Angola conference, which was held in Luanda. The 2-day event was organized jointly by the Centro de Estudos e Investigacao Cientifica (CEIC) at Universidade Catolica de Angola and the CEE. The event was sponsored by the USAID, OSISA, ESSO and the Angola Education Assistance Fund (AEAF). CEE and AEAF have an ongoing partnership in Angola, working with CEIC on joint publications (such as the Angola Energy Guide), conferences, and energy curriculum development.
September 17-19 -CEE at the Energy Economics Conference
This week in Houston, CEE is leading the 27th North American Conference of the U.S. Association for Energy Economics (USAEE/IAEE). CEE is an institutional supporter of this conference, which is a key event for Houston, the U.S., and international energy economics professionals from industry, service companies, the financial sector, national labs and Federal agencies, and universities and research institutes. Dr. Michelle Michot Foss is the USAEE emeritus chair and presided over keynotes by Charles Zimmerman of Wal-Mart and Houston Mayor Bill White yesterday, the opening day of the conference.
Four papers are being presented by CEE researchers. Dr. Mariano Gurfinkel - "The Elusive Optimal Fiscal Regime for an Extra-Heavy Oil Resource: A Case Study," (by Gurfinkel, Gulen, Foss, Makaryan, Volkov; abstract); Dr. Gurcan Gulen will present "Supporting Biofuels: A Case Study on the Law of Unintended Consequences?" (paper by Gulen, B. Shenoy; abstract); Miranda Ferrell Wainberg, "Commercial Frameworks for National Oil Companies" (paper by Wainberg, Volkov, Foss; abstract); and Dmitry Volkov will present "Russian Gas Abyss" (paper by Volkov, Makaryan; abstract). CEE is also supporting a paper by Mr. Javier H. Estrada (President, Analitica Energetica S.C.) titled "Trans-Boundary Oil and Gas Fields between Mexico and the USA," see abstract. CEE senior researchers are leading plenary sessions as well. Dr. Gurfinkel will be presiding over a dual plenary session on LNG today, September 18. Dr. Gulen will preside on a concurrent session on Geopolitics of Energy Supply and participate in a Training Session on ERCOT with the Gulf Coast Power Association (GCPA). CEE is also sponsoring a major session on legal and regulatory issues for energy development in North America. CEE, the Jackson School of Geosciences, and McCombs School of Business have a joint exhibit at the conference, displaying information about various research and educational programs.
August
July
July 9-13 - Dr. Foss and Dr. Gülen led the West Africa Regional Natural Gas Workshop in Accra, Ghana. The event was organized by the Resource Center for Energy Economics and Regulation and supported by the Nigerian National Petroleum Company, and Kumasi Institute of Technology, Energy and the Environment (KITE). The workshop welcomed delegates from Ghana, Nigeria, Togo, Benin and Cote d'Ivoire. It is the next in the series of training programs for capacity-building of energy professionals and public education on energy issues in West Africa, undertaken by CEE through the Smart Development Initiative for Energy Sector Governance Grant from the U.S. Agency for International Development (USAID).
Read press release
July 2-6 - Dr. Foss and Dr. Gülen led the third annual Natural Gas Value Chain Workshop in Abuja, Nigeria. CEE-UT collaborated with the Gas Research Group at the University of Port Harcourt to deliver this five-day course on energy value chains. The course was attended by over 25 industry professionals, regulators, industry representatives, and university colleagues.
June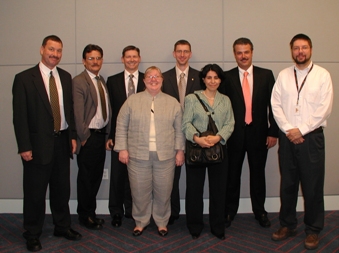 June 22 - Dr. Gülen presented a paper at the 11th Annual Conference of the International Society for New Institutional Economics (ISNIE) in Reykjavik, Iceland. The paper was titled "Improving Regulatory Agency Efficiency and Effectiveness: Best Practices, Processes and Organizational Structures." He also chaired a session on Property Institutions and Market Performance and was a discussant in Decentralization and Deregulation session.
June 21 - CEE welcomed a delegation of visitors from Canada and Mexico. The visitors were inthe United States under the auspices of the Department of State's International Visitor Leadership Program. Their program was titled "North American Energy Security in the 21st Century: A Sub-Regional Project for Canada and Mexico." The delegation was composed of six energy sector professionals. CEE's Dr. Foss and Dr. Gurfinkel discussed the current North American energy outlook, the growing importance of LNG, and opportunities for increased energy cooperation in the region.
June 6 - Dr. Mariano Gurfinkel chaired a session "Investing and Economics" at the SPE Forum on "Unconventional Gas Resources" held in Colorado Springs, CO.
May
May 21 - CEE welcomed a group of the External Directors from the Nigerian Petroleum Development Company/Nigerian National Petroleum Corporation. The group will be in Texas for a three-week study tour on upstream oil and gas industry.

May 7-18 - CEE launched its 7th annual international capacity-building program "New Era in Oil, Gas & Power Value Creation." This year's session welcomed 24 delegates from Angola, Benin, Cote D'Ivoire, Ghana, Kenya, Mexico, Nigeria, Peru, Tanzania & Togo. The two-week program concluded on May 18 with participant team projects presentations and award of the certificates at the graduation dinner.

April
March
March 26-31 - Dr. Gulen attended a one-week workshop organized by EcoMod. Decision makers in governments and companies want to know economic impacts no matter the source of disruption (environmental regulation, economic regulation, tax-subsidy policy, new technology, geopolitics, trade, new investment, etc.), and how best to achieve sustainable, quality investment from field to market. Quantitative impact analysis through economic models can enhance CEE's focus on qualitative aspects of commercial frameworks and allow testing of various framework scenarios.
March 21 - Dr. Foss gave a presentation "North American Energy: A Mexico Perspective" at the Energy Conference for Heads of Mission, organized by the Canadian Consulate General (Dallas). The event was held in Houston with participation of various Consulates throughout the US. The conference was held to to familiarize the HOMs to the work of the various networks, and in particular the Energy Network, or EnerNet. The Energy network is one of six networks established by Ottawa this past year to promote collaboration among the various US missions and the Canadian Embassy on long-term, strategic public diplomacy efforts in key areas. The EnerNet objectives are to promote research collaboration between universities, research institutions, and think tanks from the US and Canada; to promote Canadian emerging technologies in the energy sector; and on a broader scale to promote Canada as a reliable and secure energy partner to the US.
March 8-9 - Michelle Foss and Mariano Gurfinkel attended the leading event on North American LNG industry, the CWC LNG 2007 conference, in San Antonio. Dr. Foss kicked off the event and chaired the opening plenary which dealt with "Current Supply and Demand Trends". Mariano Gurfinkel chaired a roundtable discussion on possible bottlenecks for future LNG supplies.
March 6-10 - Dr. Gülen visited Angola to meet with partners from Centro de Estudos e Investigação Cientifica (CEIC) at Universidade Católica de Angola to follow up on their earlier visit to Houston. In addition to working on CEIC's energy report and international conference, the partners explored opportunities for further collaboration in the future and visited with various energy sector stakeholders and potential supporters of CEIC.
March 5 - Dr. Gurfinkel gave an invited talk to the "Red Mexicana de Energia" in Mexico City. The talk "Oil in Venezuela: A historical perspective" centered on the evolution of the Venezuelan oil sector and how fiscal regimes and governing laws have created or hindered opportunities for private investment.

February
February 22 - The University of Alberta MBA students completed their exchange visit to Texas by attending meetings in Austin. On the last day of their program, students visited the Railroad Commission of Texas, toured the state's Capitol, and visited the UT-Austin campus. At UT-Austin, the students had an opportunity to listen to presentations by the UT professors and students, and presented as well. The visit was concluded by a students' social kindly hosted by the McCombs School of Business.
February 19 - CEE welcomed 28 students from the University of Alberta MBA program. The students, who specialize in Natural Resources and Energy, will be in Texas for one-week on this exchange program visiting CEE, energy and other companies, regulatory agencies and the University of Texas campus in Austin. On this opening day of the UA visit, CEE senior staff made presentations on the world outlooks for natural gas and its impact on North America, natural gas and LNG projects, and Texas electricity market restructuring. Download program.
February 15 - CEE held a Think Day on South Korea. CEE's visiting researcher Dr. Chang Hyeun Cho of Korea Institute for Industrial Economics and Trade (KIET) presented at the event. He discussed his research conclusions regarding Texas and US electricity restructuring and regulation and considerations for generation fuels as compared to the Korea experience.
February 5 - CEE's Dr. Foss and Dr. Gülen, in cooperation with the Resource Center for Energy Economics and Regulation (RCEER) with the support of Kumasi Institute of Technology and Environment (KITE), Nigerian National Petroleum Corporation (NNPC) and the U.S. Agency for International Development (USAID) launched a Natural Gas Workshop in Abuja, Nigeria. This week-long program will help participants better understand the requirements for a reasonably well-functioning natural gas marketplace in the West Africa sub-region. The program will cover both the West Africa Gas Pipeline and directly affected countries (Nigeria, Benin, Togo and Ghana) as well as internal and other regional considerations for expanded development of natural gas resources and enhanced use of natural gas for domestic and regional economic development and trade.
January
January 12 - Dr. Felix Asante of the Resource Center for Energy Economics and Regulation (RCEER) at the University of Ghana received an award from the President of Germany Horst Köhler for his work on good governance. Dr. Asante is a coordinator of the RCEER, which was created with the support of the USAID through its "Smart Development Initiative," implemented by CEE.

German President Köhler presents the award to Dr. Asante

From DAAD Newsletter, Jan. 2007: "First Ghanaian admitted to DAAD African Good Governance Network. Dr. Felix A. Asante of the Institute for Statistical Research (ISSER) at the University of Ghana has been welcomed as the first Ghanaian into the new DAAD sponsored "African Good Governance Network", which is under the patronage of the President of the Federal Republic of Germany, Horst Köhler. The official acceptance into the programme took place on the opening night of "Partnership with Africa" Conference (12th January 2007) with President Köhler handing over the award certificate. The network aims to bring together young Africans, who have studied in Germany or at a DAAD supported Centre of Excellence in Africa, and are actively involved in the processes promoting good governance, democracy and prosperity in Subsaharan Africa."
January 31 - Latin America Energy Advisor, published weekly by the Inter-American Dialogue, published Dr. Gurfinkel's comment on the South American gas pipeline network project. [more] .
January 30 - Dr. Foss taught a videoconference class for the Bodø School of Graduate Studies, Norway. The topic for this lecture, jointly taught with David Holt (Consumer Energy Alliance), was titled "Outlook for World Oil Supply - Pessimists vs. Optimists."
January 25 - Dr. Foss presented at a breakfast meeting "Energy Outlook for México" in Mexico City.