Our History and Approach
Since 1991, the Bureau's Center for Energy Economics (CEE) research team has performed seminal work on natural gas market dynamics in the U.S., Mexico, continental North America and key world regions (including Eurasia, Japan, South Asia, South America and West Africa). Our focus has long been on improving understanding of the natural gas value chain, from upstream resource exploitation through end use, including electric power generation. Our main interests have been on the interactions between commercial frameworks; trading and price risk management; and value chain economics. Our research approach is time-tested. We focus on placing the specific problem in the larger context of energy value chains with the help of stakeholders and outside experts; and work with collaborators from inside and outside UT-Austin to develop and test solutions that are widely disseminated for highest possible impact.

Commercial Frameworks for LNG in North America
In 2003, CEE established an independent, objective and widely accessible knowledge base on the role of LNG in North American energy security. Guide to LNG in North America was created to support the build-out of imported LNG storage and regasification capacity. The CEE research and public education effort on LNG was supported by a number of public and private organizations. The U.S. Department of Energy's Office of Fossil Energy provided a federal interface to the federal and state agencies that play lead roles in ensuring public safety and security associated with LNG import/export facilities. Numerous organizations helped to develop, peer review and extend the knowledge base, including those directly engaged in assuring integrity for LNG facilities and operations. The LNG knowledge base remains a part of our overall research and public education efforts on natural gas and the role of natural gas in the U.S. and world energy mix.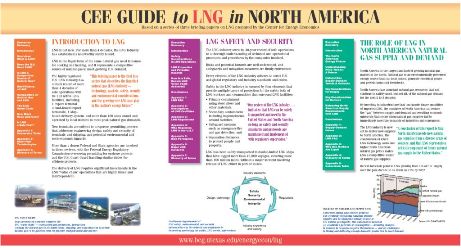 Global Gas Demand "Deep Dive"
Occasional reports and papers focus on better understanding of fundamentals for natural gas use in key countries and regions. Gas and LNG trade movements monitored through companion research.
European and Asian Natural Gas Market Developments – Swamped by the Present? by Michelle Michot Foss, Deniese Palmer-Huggins (coming soon)
This paper provides a summary and update on Chapter 6 in Managing Energy Price Risk, 4th Edition, Dr. Vincent Kaminski, ed., Risk Books, 2016. In particular, moves by Japan to liberalize gas and LNG sales could alter fundamentally Asia-Pacific and global LNG trade.
Current and Future Natural Gas Demand in China and India (April 2017)
Full Report Executive Summary
In recent years China and India have been viewed as potentially large markets for future natural gas consumption. In this paper we examine the historical drivers of natural gas demand in both countries and analyze the potential direction and impact of these drivers and commercial frameworks on realizable natural gas demand in the future. As part of our analysis, we reviewed several public and private forecasts of natural gas demand in China and India in light of our demand driver analysis. We also compare the key features of both markets and discuss their possible impact on the future evolution.
LNG Marine Fuel Applications (November 2016)
Research Note
The marine shipping industry is global in scale and scope with approximately 80 percent of global trade by volume and 70 percent of trade by value being transported by sea and handled by ports worldwide. The percentages are even higher in the case of most developing countries (IMO World Maritime Day, 2016). Marine shipping is a vital link in the global economy; its financial health is driven by the level of economic activity and growth in world trade. We discuss the viability of LNG use as a fuel in marine shipping.
LNG Supply Outlook 2016 to 2030 by Andy Flower (August 2016)
Full Report Executive Summary and Commentary
Noted LNG expert Andy Flower collaborated with CEE to provide his views on capacity expansion in liquefaction worldwide and implications for LNG supply-demand and trade. The full paper also incorporates considerations associated with lower oil, natural gas and delivered LNG prices as well as the rapidly changing commercial and contracting scene. Our executive summary and commentary covers the main conclusions and also some updates and developments since the full paper was completed.
IAEE Energy Forum: Is U.S. LNG Competitive? by Michelle Michot Foss, Gürcan Gülen (April 2016)
Full Paper
We examine North American supply and demand considerations and their implications for the U.S. LNG market. Our report explains how we went from building four import terminals in the U.S. to meet expected demand of natural gas to becoming an LNG exporter.
Worldwide Thinking and Research
CEE investigations and analysis have benefited from on-the-ground experience and observations in a number of international locations, beginning with Mexico and Central Asia/Eastern Europe in the 1990s and extending through several countries and regions. Our engagements are most often technical assistance in nature, encompassing program delivery for human capacity building and development in addition to supporting research. Much of our work has been supported by the U.S. Agency for International Development (USAID) and U.S. Department of State – Bureau of Energy and Natural Resources (DOS-ENR, with a current assignment in Mexico). CEE also engages with international groups for executive education with a focus on natural gas/LNG value chains.
The breadth and depth of CEE's work also is enhanced by a large, worldwide network of collaborators and colleagues as well as advisors who provide peer review and feedback. CEE's advisory support takes two forms, to focus on analytics and modeling as well as higher level issues.
Other Notable Papers and Research
Natural Gas Pricing in North America, Chapter 3 in The Pricing of Internationally Traded Natural Gas, Prof. Jonathan Stern, ed., Oxford University Press (Oxford), 2012.
The Outlook for US Gas Prices in 2020: Henry Hub at $3 or $10? OIES-NGP, NG 58, December 2011.
Gazprom pipeline gas remains key to Europe, Oil & Gas Journal, V107, N6, April 27, 2009.
Novel offshore LNG terminals address some, not all issues, LNG Observer, January 2007.
North American Natural Gas Scenarios and United States Prices to 2015, Natural Gas Programme, OIES-NGP, NG 18, January 2007.
Global Natural Gas Issues and Challenges, The Energy Journal, Vol. 26, No. 2, 2005.
Latin American Gas: Progress, Potholes and Pitfalls, in Natural Gas Yearbook, Financial Communications Company, Houston, 2002.
Commercial Frameworks for Gas-Power Value Chain Development, a cross-country comparison of best practices, 2001.
Monetizing Stranded Gas: The Case of Turkmenistan and Considerations for Explorationists, in International Oil and Gas Exploration: A Business Perspective, American Association of Petroleum Geologists, 2000.
Analysis suggests economic viability of trans-Caspian Sea gas line, Oil & Gas Journal, November 15, 1999.
North American Energy Integration: The Prospects for Regulatory Coordination and Seamless Cross-Border Transactions of Natural Gas and Electricity, 1998.
Asian Oil & Gas: Megatrends, Balance and Geopolitics A Closer Look at China, 1997.
The Economics of Natural Gas in Mexico – Revisited, The Energy Journal special edition, North American Energy After Free Trade, September 1993.
The Economics of Natural Gas in Mexico, Proceedings of the IAEE 13th Annual North American Conference, November 1991.
Our electric power guides incorporate substantial discussions on natural gas in the respective country markets. See our publications. Our national oil company research and benchmarking capture challenges in commercial gas strategies. Our research snapshots provide updates on many aspects of natural gas/LNG development and use in North America and beyond.