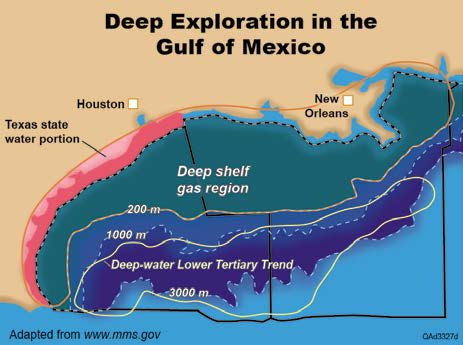 Objective
This project provides concepts and data that can be used to forecast reservoir quality, reservoir architecture, and associated risk factors when drilling deep to ultradeep (15,000–35,000 ft) targets beneath the Gulf of Mexico (GOM) shelf and deep water. The study adds valuable updip regional knowledge for companies focused on downdip deep-water exploration.
Approach
The greatest unknown and most critical risk factor for deep to ultradeep exploration is reservoir quality. To improve reservoir-quality forecasting for deep Gulf of Mexico reservoirs, we conduct regional studies using data from onshore wells in Texas, Louisiana, and Mississippi. These multidisciplinary studies, which are conducted by a team of experienced geoscientists, include (1) petrographic analysis of rock samples, (2) statistical analysis of porosity/permeability relationships to controlling parameters, (3) burial-history modeling of key wells, and (4) interpretation of sequence-stratigraphic systems tract framework.
Research
Our research this year is focused on evaluating reservoir quality in deepwater Lower Wilcox sandstones deposited in the Lavaca submarine-canyon system in Texas. Lavaca Canyon sandstones were deposited in a variety of deepwater depositional environments and facies, including turbidite-channel fill, levee/overbank, and mass-transport deposits. We are investigating controls on variation in reservoir quality with depositional facies, particularly variations caused by differences in grain size, sorting, silt content, clay content, ductile-grain content, and diagenesis. These onshore sandstones are good analogs for deepwater Wilcox sandstones in the Gulf of Mexico because they display similar composition, reservoir quality, and thermal maturity.
We recently completed studies of Upper Jurassic Cotton Valley and Smackover sandstones in the northeastern GOM. We also investigated reservoir quality in Wilcox reservoirs from Zapata County, Texas, near the Texas-Mexico border. In these studies we assessed regional trends in sandstone composition, diagenesis, pore types, and reservoir quality to evaluate reservoir potential in the deep-shelf and deep-water GOM.

Information transfer
Research results are distributed to member companies each year at a project-review meeting and in deliverables posted online, with a final written report provided at the end of the study. Products include:
Core descriptions with sequence-stratigraphic interpretation
Databases of sandstone mineralog
Core-analysis porosity and permeability data
Analysis of reservoir-quality trends versus depth and temperature
Databases of sandstone porosity and permeability organized by depth, temperature, and pressure in a web-based search system
Annual project meeting to convey research results
Results of previous studies of stratigraphic/structural architecture and sandstone reservoir quality of deep Tertiary reservoirs and Upper Cretaceous Tuscaloosa/Woodbine reservoirs along the Texas and Louisiana Gulf Coast are available for purchase.