Introduction
The Center for Integrated Seismicity Research (CISR) at The University of Texas at Austin (UT) is a multidisciplinary, trans-college research center managed by the Bureau of Economic Geology (BEG). The overall goals of CISR are to conduct fundamental and applied research to better understand naturally occurring and potentially induced seismicity and the associated risks. The research is designed to understand the subsurface processes that may influence seismicity, quantify and reduce risk to the citizens and infrastructure of Texas, and improve standards of practice to mitigate seismicity that may stem from industrial activity. Effective strategies will be developed for communicating with stakeholders and responding to public concerns regarding seismicity. CISR is funded by the State of Texas through the TexNet Seismic Monitoring Project and also by industrial associate partners.
CISR's research areas include including seismology, geologic characterization, reservoir modeling, seismic hazard and risk assessment, and seismic risk social science. TexNet funding supports research projects in seismology, geologic characterization, and reservoir modeling via the 2015 TexNet legislation. Through an industrial associate program at the BEG, the petroleum industry participates in CISR allowing us to maintain a more robust science program across all of the research themes, resulting in a more integrated and application-driven science program. The success of CISR to generate transformational science relies on our industry partners to share their datasets, expertise, and perspectives.
Organization
The TexNet Seismic Network and associated research is led by Principal Investigators Dr. Peter Hennings, Dr. Ellen Rathje, and Dr. Alexandros Savvaidis. This research collaboration spans the Bureau of Economic Geology, the Institute for Geophysics, and the Department of Petroleum and Geosystems Engineering at The University of Texas, SMU's North Texas Seismicity Study Group, and the Department of Petroleum Engineering at Texas A&M University.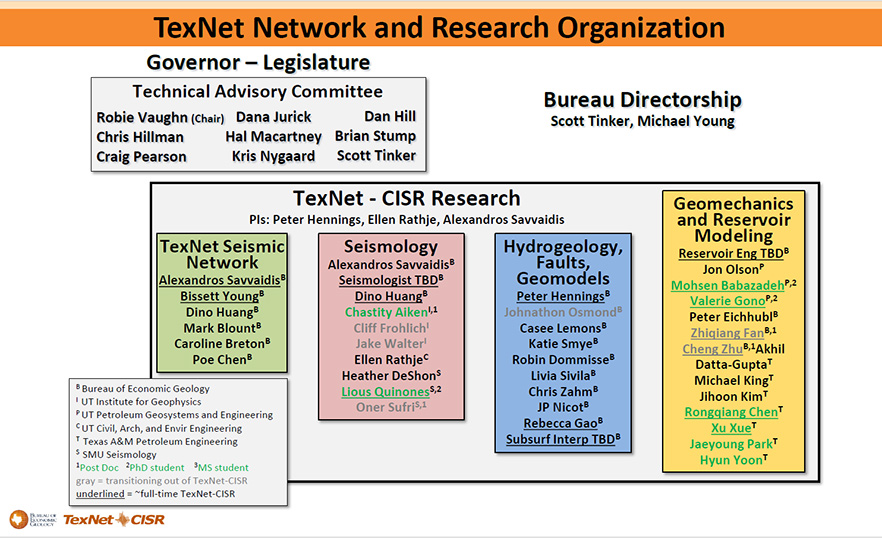 With the addition of funding and collaboration from the Industrial Associates program the research collaboration grows stronger in the aforementioned areas and includes The University of Texas' Departments of Civil, Architectural, and Environmental Engineering, Psychology, and the Moody College of Advertising and Public Relations.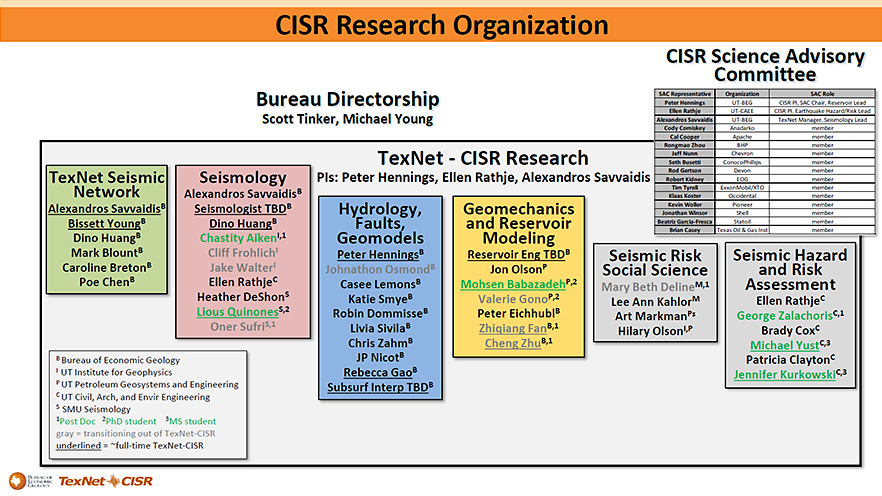 Research Goals and Themes
The TexNet-CISR research portfolio will have defined value and impact. The overarching goals are to:
produce accurate and detailed seismicity/ground-shaking data
gain a mechanistic understanding of how fluid-pressure triggers faulting and seismicity
improve methods for managing and risking of subsurface fluid injection and disposal
perform assessments of the seismogenic potential of sedimentary basins in Texas
improve assessments of seismic hazard to infrastructure in Texas
improve vehicles for communication of data, knowledge and risk to a variety of stakeholders
establish of an appropriate seismicity response management capacity
The TexNet-CISR research portfolio has these themes which are represented by 14 individual projects which can be found at the Research Projects link to the right:
TexNet Permanent and Transportable Network Array Products
- earthquake data, locations, calibrated magnitudes, catalog
Seismology
- earthquake sequences, source characterizations, triggering analysis
Geologic Characterization
- in situ stress, fault characteristics, fluid data and budgets, geological models
Geomechanics and Reservoir Engineering
- fault sensitivity, pore pressure/reservoir models, rupture models
Seismic Hazards and Risk Assessment
- site characterization, shake maps, infrastructure vulnerability
Seismic Risk Social Science
- stakeholder attitudes and bias, communication mechanisms and strategies
These challenging research themes are connected in an integrated plan whereby results and dependencies are shared to maximize integration and the development of applicable products as well as leading research. The projects are roughly connected as shown here: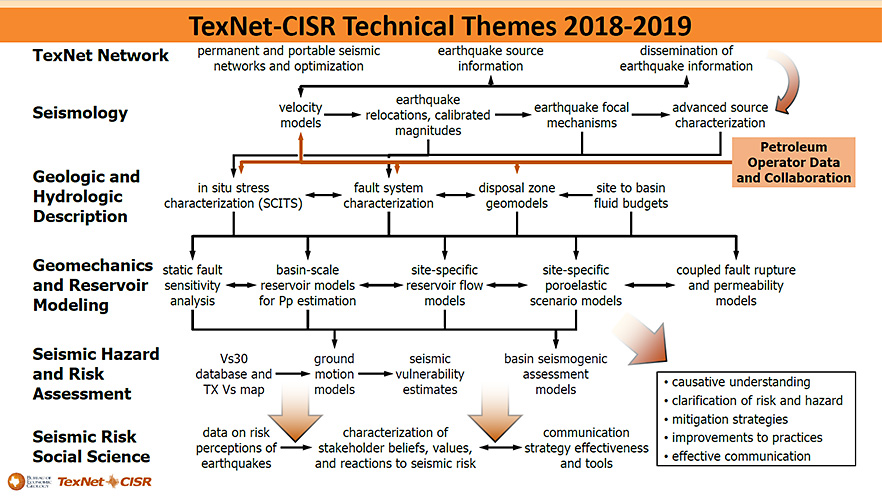 Initially, TexNet and CISR will serve the specific geography and geology of Texas, and therefore the research portfolio contains overarching themes as well as geographically-specific emphases. As per the graphic below, the first geographic thrust will be an integrated assessment of the seismicity potential of the Ft. Worth Basin and how it might relate to oil and gas operations. This will take several years to complete. For this project the TexNet/CISR group has partnered with the Stanford SCITS group to collaborate with participating petroleum operators in the Ft. Worth Basin who will provide access to proprietary subsurface data as well as their extensive expertise. SMU and Texas A&M University will also participate in the research to make this a truly integrated effort that leverages the technical strengths of the participating groups and prevents duplication of effort.
Once this integrated effort is moving forward quickly, the focus of CISR will begin to switch to the seismicity potential of the greater Permian Basin and especially the Delaware Basin where oil shale development is expected to accelerate in the coming years. The Eagle Ford play area, the East Texas Bain and Haynesville play area, and the Texas Panhandle are areas that will receive research focus in the future.