Our Products:
We sell books, maps, digital media, and reports of research conducted by Bureau staff from 1915 to the present, in book or digital format. We also sell rock kits, cross sections, and posters, plus selected Gulf Coast Association of Geological Societies (GCAGS) and GCS-SEPM products.

Visiting our store? Please see new parking information on the location of the "Pay and Display" stations. You must have a valid parking pass ($3) to park at PRC or risk being ticketed.

Select from the menu items at right to search, download our catalog, shop at our online store, or find other information.



Wolfberry (Wolfcampian-Leonardian) Deep-Water Depositional Systems in the Midland Basin: Stratigraphy, Lithofacies, Reservoirs, and Source Rocks, by H. S. Hamlin and R. W. Baumgardner. 61 p., 38 figs., 4 plates in pocket, 1 appendix, 2012. $25.



The Salt Mine: A Digital Atlas of Salt Tectonics, by Michael R. Hudec and Martin P. A. Jackson. Hard-bound 4-color volume and accompanying interactive DVD, 2011. $70.


Bookstore Hours:

Weekdays, 8 a.m. to noon, 1 to 5 p.m. CST

Bookstore Location:




(in Northwest Austin, Texas)

UT JJ Pickle Research Campus
10100 Burnet Road, Bldg. 130
Austin, TX 78758
New Parking Information - If you wish to pre-order and pick up your products at our store, please call ahead and let us know when you're coming.

Email:

pubsales@beg.utexas.edu

Telephone:

512-471-7144

Fax:

fax 512-471-0140

Ready to Order?

We accept credit and debit cards, as well as purchase orders, checks, money orders, and cash. Please send us e-mail, call us, or send us a fax. We're glad to help!
Carbon sequestration
Geophysics
Petrology
Coastal studies
Hydrogeology
Rock physics
Economic geology
Mapping
Sedimentology
Engineering geology
Mineralogy
Seismology
Environmental geology
Nanogeoscience
Stratigraphy
General and regional geology
Paleontology
Structural geology and tectonics
Geochemistry
Petroleum engineering
Volcanology
Petroleum geology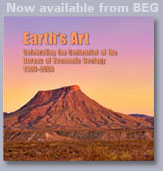 Celebrating the Centennial of the Bureau of Economic Geology 1909-2009 by
S. E. Laubach and S. W. Tinker with contributions by multiple authors. Hardback cover and color book jacket. 142 oversized color pages of photo- essays depicting Bureau research areas worldwide. SR0017 $50