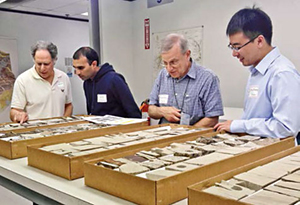 The Bureau of Economic Geology functions as the State Geological Survey of Texas and hosts a wealth of information and other resources for the people of Texas and the world. Bureau research is grounded in the rocks, and its core research centers together archive what may be the largest collection of well core and other rock material in the world. The State of Texas Oil and Gas Advanced Resource Recovery Project (STARR) provides Texas companies of all sizes with research expertise to assist in discovering productive oil and gas wells. Scientists and the public can visit The Bureau Store for thousands of informative books, publications and maps featuring the work of Bureau researchers. The archive of Texas' thousands of well logs is maintained in its log library. Free Bureau-developed software is available in a number of applications to promote collaborations and innovation among a wide range of researchers, and online features allow professionals and the public at large to interact with information resources.
For more information about the many public resources now available through the Bureau of Economic Geology, please contact Linda Ruiz McCall, Information Geologist.
State Geological Survey of Texas
State of Texas Advanced Resource Recovery (STARR)
Sharing Bureau research and resources with a variety of companies to promote the drilling of profitable oil and gas wells in the State of Texas.
Texas Mineral Resources Map
Providing the public with knowledge of current and historic sites for non-fuel mineral mines or prospects in the State of Texas.