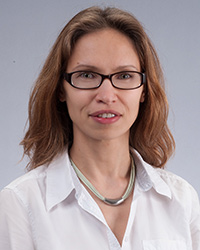 Research Scientist
Bureau of Economic Geology
The University of Texas at Austin
University Station, Box X
Austin, Texas 78713-8924
Dr. Svetlana Ikonnikova is a Research Scientist and Senior Energy Economist in the Bureau of Economic Geology at The University of Texas at Austin with experience in energy markets and policy analysis, environmental regulation, and industrial and technological change studies.
She holds B.Sc. and M.S. degrees in applied mathematics and physics (Moscow Institute of Physics and Technology, Russia), Ph.D. in economics and management science (Humboldt University of Berlin, Germany) and did her Postdoctoral research in energy and environmental regulation (Catholic University of Leuven, Belgium).
Over the past fifteen years, she has been conducting research and lecturing on energy markets and energy industry developments, focusing on the electric power industry and renewable energy sustainability, conventional and unconventional natural gas supply chains (in the U.S., EU, and FSU) and international trade, and shale and tight oil economics.
Dr. Ikonnikova is a Principal Investigator and a lead modeler in the interdisciplinary study of the major U.S. shale gas and oil plays, including the Barnett, Fayetteville, Haynesville, Marcellus, Eagle Ford, Bakken and Permian Basin, focusing on resource evaluation and production projections under various economic, technological and regulatory developments.
Dr. Ikonnikova has published her research in various peer-reviewed journals, including Review of Industrial Organization, European Economics Association, Energy Journal, Energy, SPE Economics and Management and presents at numerous conferences, including USAEE, where in 2006 she was awarded "Best Student Paper Award".
Awards

Research paper grant for the Association of International Petroleum Negotiators (AIPN), jointly with Center for Energy Economics, 2009 - 2010

Best Student Paper Award at the 26th United States Association for Energy Economics North American Conference, 2006

German Academic Exchange Service (DAAD) scholarship, 2005

Current Grants

UT-BEG The Alfred P. Sloan Foundation grant "The Role of Shale Gas in the U.S. Energy Transition: Recoverable Resources, Production Rates, and Implications", 2011-2013, co-PI on the project.

Selected Papers

Ikonnikova, S., Browning, J., Horvath, S., and Tinker, S., 2013, Well Recovery, Drainage Area, and Future Drill-well Inventory: Empirical Study of the Barnett Shale Gas Play, submitted to SPE Reservoir Evaluation

Ikonnikova, S. and Zwart, G., 2011, "Trade quotas and buyer power with an application to the EU natural gas market," in press in European Economic Association Journal

Hubert, F. and Ikonnikova, S., 2011, "Strategic Investments and Multilateral Bargaining in the Eurasian Gas Supply Network: A Shapley value analysis", The Journal of Industrial Economics, Vol. 59 (1), pp. 85–116