Unique Bureau Rock Garden Takes Shape
January 25, 2019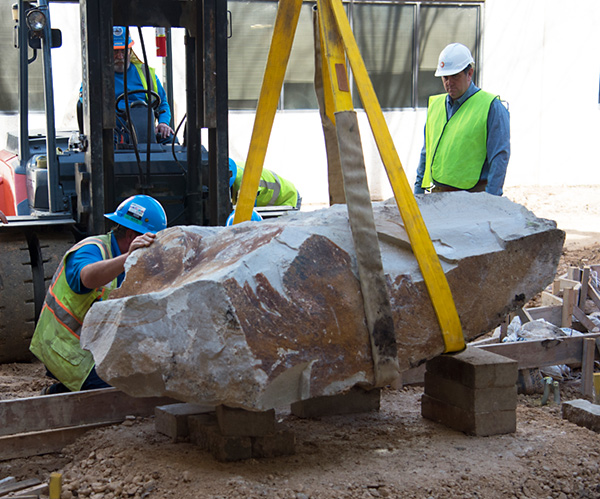 As the Bureau's new Core Research Laboratory nears completion, a number of important final touches are being put in place. Among these is work on The Stoneburner Family Texas Rock Garden, a unique educational and social space adjacent to the new laboratory. The creation of Associate Director Jay Kipper, research scientist Chris Zahm, core warehouse supervisor Nathan Ivicic, Director Scott Tinker, and donor Dick Stoneburner, the 4,000-sq-ft garden features 10 large specially selected rock specimens from across the state, which were painstakingly moved last week into their designated locations.

The distinctive boulders—the heaviest weighing nearly 7 tons—were located by Zahm and fellow researcher Brent Elliot from active quarries throughout Texas based on diversity of rock type, significance to Texas resources and geologic history, and regional origin. Rock types include prime examples of Precambrian Red Bluff and Town Mountain Granites, Cambrian Hickory Sandstone, Faulted Ordovician Limestone, Cretaceous Edwards Limestone Carbonate Reef, Late Cretaceous Columnar Basalt, and early Oligocene Sierra Blanca Rhyolite.
Viewed from above, the rock garden will align with a section of the Bureau's geologic map of Texas; each rock specimen will be located in its relative area of origin in the garden. When completed, The Stoneburner Family Texas Rock Garden will also feature a master legend of the rocks and an app for personal devices that pinpoints each rock's origin in Texas, with accompanying audio that explains the history and significance of each rock specimen in a dozen languages ranging from Farsi to Hungarian.