CEE-UT is based within the Bureau of Economic Geology at the Jackson School of Geosciences, The University of Texas. CEE personnel engage in research across a broad range of energy topics, with a strong core specialty in global oil and gas. Our mission is to assist government, industry and independent stakeholders sort through the complexities of commercializing petroleum resources by engaging in fundamental research, capacity building, technical assistance and public outreach so that these resources, certain to remain essential to world economy for decades to come, can be developed and used economically, safely and cleanly to the benefit of local and global communities. CEE was a finalist for best outreach program in the World Oil Awards in 2006 and 2007.
CEE-UT engages in energy education to link our Center of Excellence in applied research in the global oil and gas arena with human resource capacity building needs in industry and government. Our ongoing investigations on energy value chain economics, fiscal terms, geopolitics, commercialization and key topics such as capital markets, national oil company challenges, energy sector governance and stakeholder management provide the core content of our training program activities. Our hands-on experience in the U.S. and abroad through myriad outreach activities and demonstration projects gives us realistic viewpoints and perspectives on challenges and solutions.
A substantial portion of our training activity is directed toward capacity building as part of international development assistance programs. Insights gained from our hands-on experience are incorporated into discussion materials, case studies and other tools and concepts used in our programs.
All of our accumulated energy training content is housed in a large platform, New Era in Oil, Gas and Power Value Creation, in place since 2001. New Eracontent is dispersed through our own ongoing sessions in Houston (full programs and short courses); adapted for custom training programs including in-country sessions; and serves as the basis for training efforts undertaken through partnerships and links with other units in our UT community. CEE-UT serves as a gateway to UT degree programs; within UT, we also advise and work with students and faculty. The continuous learning of energy professionals is an important arena for CEE-UT activity. Through CEE-UT hosted or co-sponsored training programs, professionals can enhance their current skills and credentials to better meet the strategic challenges faced by their energy businesses and governments.
Through CEE hosted or co-sponsored training programs, professionals can enhance their current skills and credentials. The CEE engages in professional training activities through custom programs, special topic workshops and ongoing offerings. CEE training activities can be provided in Houston or in country.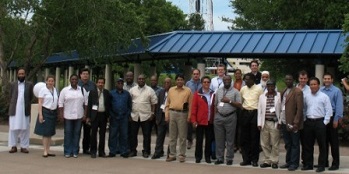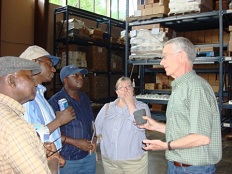 Custom Programs - Houston
CEE-UT can arrange custom programs that include additional program elements as well as the New Era platform content to meet specific needs. These can include add-on site visits to industry facilities, meetings and discussions with government regulators and meetings with the Houston-based energy business community. Some examples are the following.
New Era extension for Louisiana site visits, Government of Ghana delegation. May 10-14, 2010 New Era session with extension through May 21, 2010.
Special session of New Era for The Petroleum and Natural Gas Senior Staff Association of Nigeria (PENGASSAN) including Texas site visits. October 20-31, 2008.
Study tour on upstream oil and gas industry for the External Directors from the Nigerian Petroleum Development Company/Nigerian National Petroleum Corporation. This three-week program included lectures provided by CEE-UT staff and guest lecturers on world energy trends; energy, economy & environment; value chain commercial frameworks; upstream operations and upstream fiscal terms; global refining petroleum product issues; natural gas investments, industry organization and commercial frameworks; and international petroleum agreements. The visit also included visits to the Texas Railroad Commission, Bureau of Economic Geology, Schlumberger Technology Center, and the U.S. Minerals Management Service, Gulf of Mexico Region, Lake Jackson District. May 21-June 8, 2007.
Special offering of New Era focused on U.S. and global best practices for upstream operations for Iraq Oil Ministry, with West Texas and Texas state government site visits. May 22-26, 2006.
Training in energy economics, regulation and policy for 17 Assistant Energy Experts from the Energy Market Regulatory Authority of Turkey. The program included a foundations course on the basics of regulation, energy value chains, energy investments and revenue requirement (capital structure, cost of capital, operation expenses, rate of return), analysis of "rate base," customer based rate design, ratemaking, and defining, detecting and preventing market power; UH courses; and CEE-UT specialized lectures on various energy industry developments worldwide including LNG in North America, worldwide oil and gas resources, electricity restructuring in the U.S., and European and North American energy markets. The program included visits to regulatory agencies and industrial facilities in Texas and Washington, DC, and participation in professional organizations' meetings. August 23, 2004 – December 5, 2004.
Extended international visitor exchange for the Georgia State Oil & Gas Agencywith the U.S. Energy Association and USAID, July 9-August 16, 2001. Delegates audited UH courses in accounting, finance and law and received coaching and special instruction based on components from the CEE-UT's international program, New Era in Oil, Gas and Power Value Creation (see below).
China National Petroleum Corp. Law Program, in collaboration with UH Law Center. Multi-week review of U.S. policy and legal frameworks for upstream oil and gas development. Included an overview of U.S. oil and gas upstream development; industry organization and economics; oil and gas law and resource conservation practices; and American, corporate, international trade and environmental law. September 29, 1997-March 27, 1998, Houston.
Training program on oil and gas business practices and international contracts and agreements for China National Offshore Oil Company (CNOOC) sponsored by Shell China Corp. Led by UH Bauer College of Business Center for Executive Development in collaboration with UH Law Center. September 15-October 10, 1997, Houston.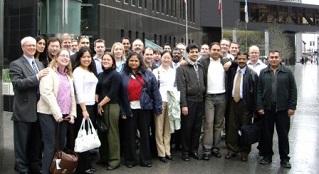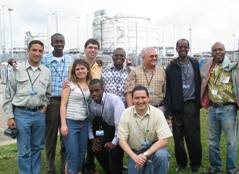 In-country Programs
Customized version of "New Era in Oil, Gas & Power Value Creation," for Mexico's Secretaría de Energía (SENER), as well as the staff of CNH, CRE and PEMEX, held in Mexico City on August 23-27, 2010.
Special New Era short course on upstream issues and negotiation, Istanbul, Turkey in collaboration with Turkish energy economics groups, May 2008.
Annual Natural Gas Value Chain workshops, Nigeria, 2005-2007. These workshops were delivered jointly with the University of Port Harcourt, Gas Research Group and attracted 30-50 participants.
LNG Workshop, CWC Latin American & Caribbean Natural Gas Conference, Port of Spain, Trinidad & Tobago, June 29, 2004. The workshop blended New Era content with specific LNG related issues based on our extensive applied research and public information clearinghouse. A similar workshop was conducted in collaboration with ABS Consulting for Petrobras, at Petrobras University in Rio de Janeiro, February 21-22, 2008.
Periodic seminars, Comisión Federal de Electricidad, natural gas supply acquisition, May-June 2004. The CEE-UT provided customized lectures, seminars and workshops on natural gas and LNG markets and economics, policy/regulatory issues and strategies for CFE in Mexico.
Weeklong training seminar, Regulación Energética en Norteamérica, for Petroleos Mexicanos, Gerencia Juridica in collaboration with University of Houston Law Center. Energy law, economics and regulation, business investment decision making, dispute resolution. February 17-21, 1997, MexicoCity.