Our Mission:
We educate stakeholders on energy economics and commercial frameworks using comparative research to facilitate energy development.

Who We Are:
Based within UT's largest research organization, the Bureau of Economic Geology, CEE performs research and provides training and outreach on energy economics, markets, and frameworks for commercial and strategic investment. CEE is externally funded through research grants and contracts, corporate and government partnerships, and our training programs.

We work to help prepare energy industry managers and their legal advisors, and government policy makers and regulators, for more competitive global energy markets. Over the past 15 years, our team has developed a specialization in "commercial frameworks." We begin with the fundamental economics of the commercial energy value chains, the closely linked segments required to produce, transport, and deliver natural gas and electric power to final customers. Each step along the chain adds value that is ultimately reflected in the final cost and price.
Training:
Using our knowledge base, CEE prepares and delivers training on economic fundamentals of energy value chains, the roles of industry and government, and technology and investment frameworks for commercialization. We also facilitate Commercial Frameworks; stakeholder interacions (business-government-public); engineering, production, and procurement management; and energy finance.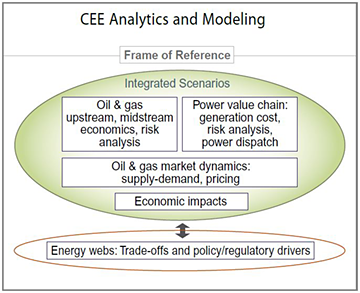 Current Activities:
Natural gas markets: commodity market trends and demand-side analysis including modeling EPA regulations; gas use in power generation; database for petrochemicals and other industrial demand; exports via pipelines or LNG; use of gas in vehicles; resiential and commercial requirements.
Electricity markets: economics of generation technologies, demand response, storage, ancillary services, and other design issues.
Critical energy infrastructure: value chain costs and other considerations such as stakeholder risk including oil and gas pipelines; processing; refining to connect oil, gas, liquids productino to markets; and grids.
Energy webs: evaluating energy options across multiple dimensions.
U.S. producer and national oil company benchmarking: cost structures, performance, financial state of companies, funding sources, and capital market risk.