Mustang Island Field Guide - Field Stop 2
Corpus Christi Pass is where the geographers say Mustang Island begins. Corpus Christi Pass was a natural tidal pass between Corpus Christi Bay and the Gulf of Mexico prior to 1929. Corpus Christi Pass was reopened as a washover channel by Hurricane Carla in 1961 and by Hurricane Allen in 1980 (fig. 1).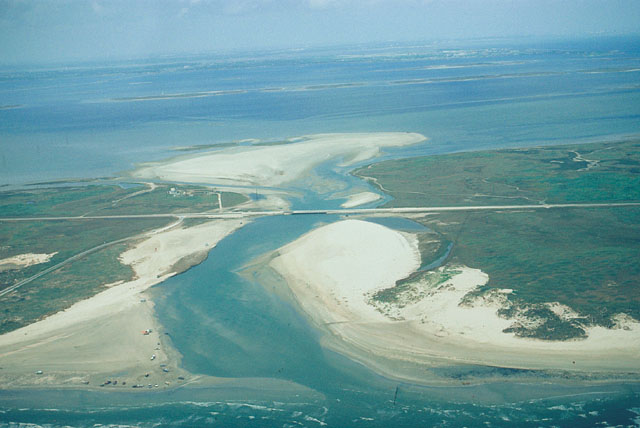 Corpus Christi Pass, 1852 Pass, and Newport Pass are washovers. Washovers are just what the name implies. When a big tropical storm or hurricane slams into the shore from the Gulf of Mexico, the winds, waves, and elevated tides can force waters from the Gulf to "wash over" the island. These high waters are called storm surge. Washover channels are eroded as waters rush into the bay and a large fan-shaped layer of sediment, a washover fan, is deposited in the bay.
Washover fans are significant features in the expansion of barrier islands. A washover channel may transport many thousands of cubic yards of sediment in a single event and build a large washover fan, a square mile or more in area. The former washover fans may be modified by wind and rain, stabilized by back-island vegetation, and merge imperceptibly with the older parts of the barrier flat.
As the storm abates, the channels are partially refilled with sand and other sediments and are soon sealed from the Gulf. The low areas of the partially filled channels and the absence of sand dunes make these places vulnerable to future washovers in future storms. Washover channels obscure the beginning and end of Padre and Mustang Islands (even some local residents are unsure of the location of the official boundary), and indicate the dynamic nature of this environment.
A tidal pass and a washover channel are similar in that both are channels from the Gulf to the bay. Although on South Padre Island the washovers often do not reach the lagoon or bay. The washover channels tend to be ephemeral and are usually quickly filled with sediment after the storm has passed. Because the Gulf processes-winds, tides, waves, and longshore currents-are generally more dynamic than those of the bay; the mouth of the channel on the Gulf generally fills quickly with sediment. Look gulfward from where Highway 361 crosses any of the washover channels, and you'll see that the old passes are now choked with sediment and a narrow ridge of fore-island sand dunes has developed. Some of the recently abandoned washover channels have small freshwater marshes with cattails and other plants.