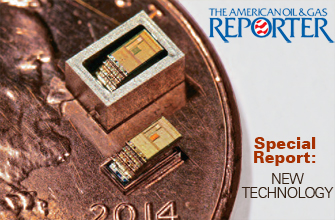 The American Oil & Gas Reporter features AEC in New Technology Special Report
The Advanced Energy Consortium's research has been featured in the July 2014 issue of The American Oil & Gas Reporter. The article titled "Nanotech Sensors To Reservoirs" by Colter Cookson describes how the AEC, among other R&D companies, is developing nanotechnology applications with specific goals to improve the imaging of reservoirs.
According to Scott Tinker, Director of the Bureau of Economic Geology and AEC, "We are trying to extend the industry's reach and view by sending nanoscale eyes, ears and hands down hole." The publication highlights avenues being explored by the AEC and the challenges it faces as it works to improve the resolution of reservoirs. To read more, a complimentary copy of the article can be accessed here thanks to The American Oil & Gas Reporter.
---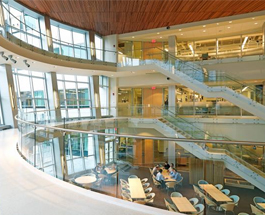 AEC Hosts 10th Biannual All Projects Review in Boston
The AEC will hold its 10th Biannual All Projects Review June 3rd and 4th in Cambridge, Massachusetts. The event will once again be held at the state-of the-art Schlumberger Doll Research Center. We extend our thanks to Schlumberger for providing space and support for this important event.
The All Projects Review provides an opportunity for funded researchers to update members on their current projects, engage and collaborate with fellow project investigators, and gain guidance from reservoir subject matter experts. Over 25 presentations will be showcased during the two-day event.
While in town, the AEC group will also conduct lab tours at Tufts University and Harvard.
---

The Advanced Energy Consortium (AEC) would like to extend a warm, Texas welcome to Repsol. Based in Madrid, Spain, Repsol is the 15th-largest petroleum-refining company, according to the Fortune Global 500 list, employing over 40,000 people worldwide. It is vertically integrated and operates in all areas of the oil and gas industry, including exploration and production, refining, distribution and marketing, petrochemicals, and power generation and trading. The consortium looks forward to the insight, experience, and expertise Repsol brings to help lead AEC into a new technological space within oil and gas.
---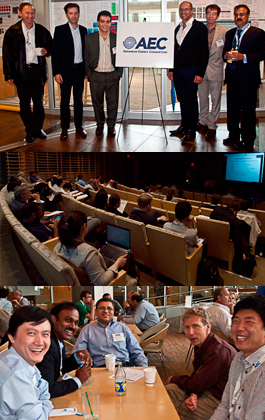 AEC Hosts 8th Biannual All Projects Review in Boston
The Advanced Energy Consortium (AEC) hosted the 8th Biannual "All Projects Review" on May 28-31, 2013 at Schlumberger's Doll Research Center in Cambridge, Massachusetts. Over the course of the four days of meetings, more than 150 students, professors and industry members from around the world gathered at this state-of-the-art research facility on the periphery of MIT's campus. The week started on Tuesday afternoon with a quarterly meeting of the Board of Management, followed by a dinner overlooking downtown Boston from the 38th floor of the Harvard Club. The next two days were packed with 37 technical presentations and contiguous technical poster sessions. Schlumberger's Simon Bittleston, Vice-President of Research, kicked off the review on Wednesday with tangible examples of his company's product development processes and timelines, and Scott Tinker introduced AEC's next phase of research – developing value-add sensor applications for the industry. Then AEC Project Manager, Carla Thomas, introduced the plans and goals for the nanoparticle mobility research projects that followed; this research portfolio bridges the science of nano transport from molecular to reservoir scales using simulation models and integrated experimental validation. The review continued in the afternoon with progress updates from the nanomaterial sensor projects, which include smart tracers, reservoir reporters, payload delivery systems, and options for clocking and improving EOR.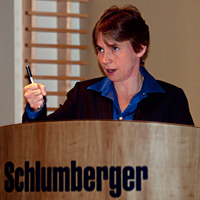 Buses transported attendees to the campus of Boston University, where student guides led tours to five nanomaterial research labs. The evening concluded with a reception at BU's historic Tudor Revival "Castle". Thursday morning David Chapman outlined the AEC's micro fabrication development strategy, followed by research reports on new micro- and nanosensors, novel high temperature power sources, in-stream interrogation, and integrated prototype design and manufacturing. Finally, Mohsen Ahmadian concluded with his second portfolio of research, a collection of projects that could be changing the future of geophysical remote sensing using nanoscale magnetic, acoustic and dielectric contrast agents. A day long workshop on Friday concluded the busy week, with industry mentors and researchers brainstorming additional specific applications for the nanosensors, and proposing appropriate laboratory and larger scale tests that will precede field demonstrations. The next 2013 invitation-only gathering is scheduled for November 19-22 at Shell's Westhollow Technology Center in Houston, Texas.
---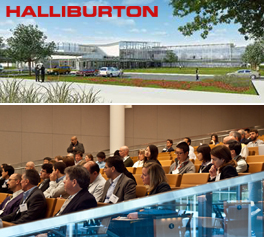 AEC Hosts 7th Biannual All Projects Review
The Advanced Energy Consortium hosted the 7th Biannual "All Projects Review" at Halliburton's beautiful new corporate offices in Houston on November 14-15, 2012. More than 140 students, professors and industry members from around the world gathered for this two day event at the new Life Center Building at the center of Halliburton's large campus. In addition to the 35 technical presentations were a number of topical poster sessions, guided tours of the facility, and an offsite reception. After Halliburton's keynote, the event kicked off with progress reports from the nanomaterial sensor projects, which now include smart tracers, reservoir reporters, payload delivery systems, and options for clocking and improving EOR. Then Carla Thomas introduced the oil industry's first coordinated program to test nanoparticle mobility using standard test materials and rigorous protocols, and presented the first results using AEC-developed nanosensors. Thursday morning Mohsen Ahmadian detailed how the AEC is preparing for its first field test and then introduced researchers who are synthesizing, characterizing and modeling magnetic, acoustic and dielectric nanoparticles that will change the future of geophysical interrogation. Finally, David Chapman outlined the AEC's microfabricated sensor development strategy, followed by research teams who are creating new micro- and nanosensors and novel high temperature power sources, and integrating all into a packaged prototyping platform for testing. Next year's invitation-only events will be held on May 29-30, 2013 at Schlumberger's Doll Research Center in Boston and on November 20-21, 2013 at Shell's Westhollow Technology Center.
---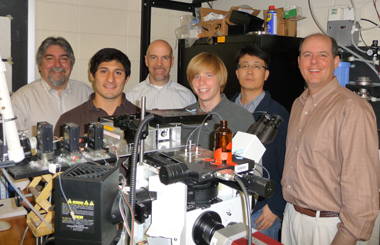 Daniel S. Park, a post-doc at Louisiana State University (LSU) was recently awarded the Best Paper Award at the Fluids Engineering in Micro- and Nanosystems Symposium at IMECE 2011 in Denver, and is nominated for the ASME division-wide Moody award which will be announced in 2012. The paper entitled "Flow Visualization in Artificial Porous Media from Microfluidic PMMA Devices", is based on research funded by the AEC (insert link to attached paper, attachment #1). Daniel studies under Dimitris E. Nikitopoulos and is expert on the "hardware" side of LSU's micromodel work (i.e., the micro fabrication and flow experiments). Co-authors from LSU also include Karsten E. Thompson, Clinton S. Willson, and Sean King.
---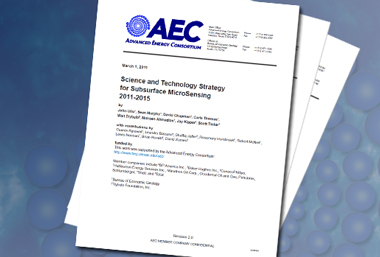 AEC Publishes Science and Technology Strategy for Subsurface MicroSensing 2011–2015
In March 2011, a large-scale, 1-year collaboration concluded with publication of AEC's Science and Technology Strategy for Subsurface MicroSens­ing 2011–2015. This document details comprehensive technical goals, timelines, and gaps for research portfolios on mobility, contrast agents, and nanomaterial and microfabricated sensors. Also included are (1) the definition of technology-readiness levels from TRL1 (basic research) through TRL 9 (system fully operational), (2) schedules for reaching these milestones for each portfolio, and (3) a recognition that the AEC is tasked with developing sensor systems capable of field-test demonstrations, which include the supporting infrastructure necessary to collect data. Whereas this strategy is an evergreen document to be updated on a regular basis, the first revision of the docu­ment represents a significant AEC milestone, and we encourage our members to review, comment, and help guide the future development of this document. If members desire additional copies, please contact Jay Kipper.
---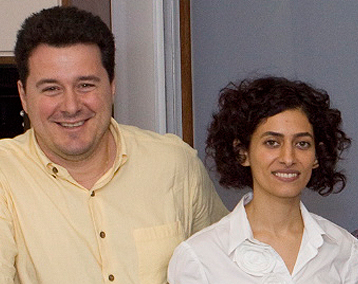 AEC-funded research at Rice University published in Science Magazine
Rice University doctoral student, Nikta Fakhri (right), working with Professor Matteo Pasquali, recently published an article in Science on their AEC-funded research. Studying carbon nanotubes, Fakhri and her co-authors demonstrated that even a small ability to bend gives CNT and other tiny, stiff filaments the means to navigate through crowded environments like reservoir rocks and tight pore spaces. The team mimicked rock networks by using varying concentrations of agarose gel, a porous material often used as a filter in biochemistry and molecular biology for DNA and proteins. The gel forms a matrix of controllable size through which molecules can move. Nikta graduated and is now a postdoctoral researcher at University of Gottingen, Germany, but the research continues with Rice co-Principal Investigator Zachary Ball and postdoctoral students Shannon Eichmann and Brian Popp. Dr. Pasquali intends to replace the gel with real rocks to see how nanotubes, which can be used as oil-detecting sensors, move in a more structured environment. "Rocks can be a little more complicated," he said. "The question here is: what can nanotubes do better than nanoparticles? The answer may be that slender nanotubes may interact with electromagnetic fields more strongly than other nanoparticles of the same volume." The Science article can be viewed at: http://www.sciencemag.org/content/330/6012/1804.abstract.
---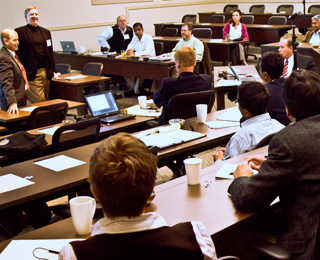 Nano-enabled Enhanced Oil Recovery (EOR) Workshop, February 14, 2011
The AEC sponsored a 1-day workshop focusing on nano-enabled Enhanced Oil Recovery (EOR) technologies in Austin on February 14th. The workshop included presentations from invited university and industry researchers on the challenges and opportunities of EOR. The objective of the workshop was to review the current state of science and engineering on EOR technology and to identify research needs and opportunities for AEC. The presentations laid out some of the issues related to EOR performance, shortcomings and strengths of existing technology, and future needs, as well as information on emerging nanotechnology research with potential application to EOR. Group discussion focused on different recovery mechanisms used by the industry to improve oil recovery, the target for improved recovery technologies, along with a few field case studies. Priscila Moczydlower gave an informative overview of EOR challenges that Petrobras is facing. Through the workshop presentations and discussions, attendees identified gaps and technical issues and challenges and opportunities for improving EOR performance and research priorities that can be used by the AEC for purposes of its future research plans. A copy of the workshop agenda, presentation, and summary note is available to members in the confidential forum.
---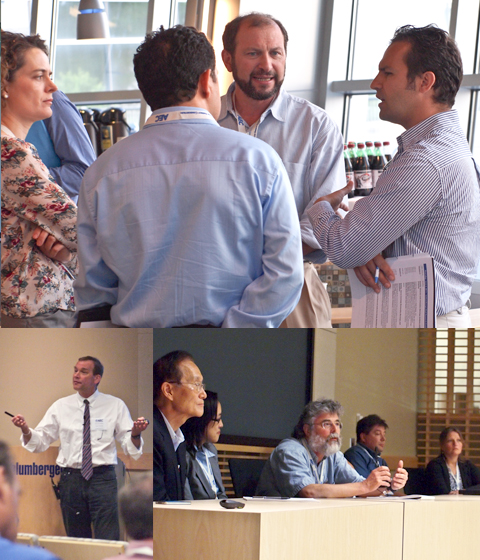 AEC Conducts All Projects Review June 1–3, 2011
The AEC conducted its fourth biannual all projects review meeting June 1–3, 2011, at Schlumberger's Doll Research Center (DRC) in Cambridge, MA. The consortium-funded research continues to mature, and a voluminous number of new and relevant data were presented; with all teams sharing results, test methodologies, particles, and design strategies, it is apparent that the pace of development is accelerating. More than 150 registered participants attended this meeting, including members of the Board of Managers (BoM), Technical Advisory Council (TAC), member-company mentors, collaborating principal investigators, and their students. For the first time the agenda included additional presentations from project Co-PIs, which provided additional depth and perspective. The 3 days were divided into the AEC's four technology thrust areas, with project managers introducing their respective sections and reviewing the current research status.
The review was kicked off on Wednesday, June 1, with the Microfabricated Sensors portfolio; chemical level and pressure threshold sensing elements were reviewed in the morning, and power and communications-supporting technologies filled the afternoon. Tufts University hosted a reception and poster session to conclude Wednesday evening. Thursday was spent on the Mobility portfolio, with Carla Thomas leading research sessions covering mobility simulation, metrology, and coating synthesis from molecular, to pore, and, finally, to core scale. Thursday evening, the contrast-agent research community took advantage of being co-located at DRC to discuss the scope of their collective work to establish research priorities and to coordinate shared testing methods. Sean Murphy led the Friday morning reviews of magnetic, acoustic, and dielectric contrast agents. The meeting concluded on Friday afternoon with a review of the Nanomaterial Sensors projects led by Mohsen Ahmadian. Panel Q&A sessions followed each section, allowing both project managers and audience to ask questions of each group's research teams. Presentation slides and video recordings of the talks are available in the members' section of the AEC online forum. Once again, this biannual review provided members and researchers with an exciting and dynamic collaborative forum, sparking new ideas and directions for the consortium.